Welcome to our page dedicated to the best electric bikes available in 2018. Just like any product, one of the most important things a consumer should do is research all of the available options to determine which is the best fit. For instance although we have listed our top-5 choices in the comparison table below, you may find that you like something completely different. Our goal of this page is to minimize that occurrence as much as possible which is why we provide you with reviews for each bike as well. This way you can see what the top features for each bike are and determine if that is what you are after. All set to start looking? Check out the table below for our best choices. Below the table we features quick reviews along with a buyer's guide.
Currie eZip Low Step-Thru
Read Review
Prodeco Phantom X2
Read Review
Yukon Trails
Read Review
Prodeco Mariner
Read Review
Review (/5)
4.4
4.1
3.6
3.6
Price
$$
$$$
$$
$$$
Sex
Women
Men
Men
All
Frame
Aluminum Alloy
Aluminum Alloy
Alloy
Aluminum
Motor
450-watt DC Earth
Drive 36V 500 Watt
250W, 36V Brushless Alloy
FSG 36V 250 Watt
Battery
24V
38.4V 12Ah LiFePO4 24 Cell
LiFePo4 - 36V 10AH
38.4V 9Ah LiFePO4 24 Cell
Range
15-22 miles
28-38 miles
30 mile
25-35 miles
Max Speed
15 mph
20 mph
15 mph
17 mph
Brakes
Alloy Linear Pull
Avid BB7 Disc Brakes
F / R V Brakes
Avid BB5 Disc Brakes
Sizes
26"
26"
26"
20"
Quick Reviews of our Top-5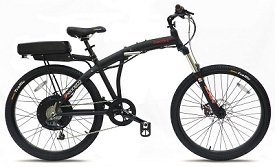 Prodeco Phantom 2: Stylish and powerful, the Prodeco V3 Phantom X2 is recommended for every city commuter who wants a bike for regular commutes around town without sweating out too much. This folding electric bicycle is often considered as the most aggressive and most affordable bike that gives you the best of both worlds – folding bikes and electric bikes.
The Phantom X2 boasts a foldable, lightweight, aircraft grade aluminum alloy frame with 26-inch mountain style tires for increased traction on all kinds of terrains. The 120mm ZXR magnesium suspension fork further absorbs vibrations along the way giving you a smooth and enjoyable ride. If you are a smart rider and want more control, satisfy your craving with the SRAM x7 8-speed rear derailleur and 8 speed twist shifters as well as the Avid disc brake system for incredible stopping power.
Coming to the electrics of this bike, this beauty gives you the superior strength of a 500W direct drive motor, mounted on the rear wheel that gives you amazing speeds up to 20mph, fast enough for cruising past people and other riders. With an advanced 38V lithium ion battery, it gives you a fabulous range of 28-38 miles per charge.
All in all, this bikes gives you all the best features you would want in an electric bike and a folding bike. Read our full review.
Prodeco Mariner: Described in one word as "nimble", this one is truly an all-rounder folding electric bike that gives you the best of both worlds – folding bikes and electric bikes. Featuring a super lightweight, portable and foldable aircraft grade aluminum alloy frame, the bike will make you feel nimble as you ride around town. It weighs only 42 lbs. 25% lighter than its competitors. Its full adjustability makes it suitable for all riders of 5'3" – 6'3".
To give you a smooth and comfortable ride, the bike is equipped with SRAM x7 8 speed rear derailleur and 8 speed twist shifters that make it easy to transition and switch between gears. Plus, it also includes suspension fork and suspension seat post for a smooth ride.
Coming to its power, the Mariner boasts a 300W free spinning motor, mounted on the front wheel that gives you 500W power at peak and a maximum speed of 18 mph. The propulsion is a twist 'n' go, power on demand that is extremely easy to operate and also gives you an option to pedal like a regular bike.
Complete with a 38V 9 amp-hour lithium ion battery that gives you an amazing range of 25-35 miles per charge, this bike is truly the best folding electric bike you can get your hands onto. Read our full review.
Currie eZip Trailz: Electric bikes are increasingly getting "in" these days with more and more Americans riding an electric bike for their regular day-to-day commutes around town. But if you have never ridden an electric bike before and want to buy your first e-bike to get a feel how it works, the Currie eZip Men's Trailz is a highly recommended bike for you.
Available at only $500, this bike features both a good hybrid bicycle with decent features and a good electric system that you can rely on when going from place A to B.
The high quality steel hybrid frame is made for comfort and durability. It features suspension forks, linear pull brakes and Shimano 7 speed rear derailleur with SRAM easy gear shifters. This makes sure you enjoy a comfortable and a stable ride.
As far as the electric system is concerned, it features a 450W DC earth motor with 24 volt SLA type battery that will truly give you that OMG! feeling especially on your first ride. The motor gives you speeds of up to 15mph, fast enough for most bike friendly roads. Plus, the bike features both pedal assisted throttle and twist 'n' go modes, which are user selectable.
With all these features and so much more, this bike is truly a valuable purchase, especially for the money. Read our full review.
Currie eZip (Women's): Featuring a low, step through steel hybrid frame with enough bike features to give you a comfortable and stable ride around town with a powerful boost from the 450W motor, the eZip Women's Trailz is a must have for every woman who is looking for an e-bike that is reliable enough to take her around town and affordable enough to be easy on her pockets. With its basic features, it is especially recommended for a first time e-bike.
The eZip women's Trailz is a decent bike with heavy steel frame, suspension fork to smooth out vibrations on the way, 7 speed Shimano rear derailleur and easy gear shifters, and alloy linear pull brakes.
Talking about its electrics, it boasts the Currie patented electro-drive system, which is a proven and reliable system used in Currie bikes for over a decade. Instead of the cheap hub motor usually found in bikes at this price range, this bike features a chain drive motor using a brushless motor that gives an awesome power boost of 450W, enough to take you on flats and hills. Plus, it includes a 24V battery pack with 15-20 miles range, mounted low on the rear, giving enough space to easily double the range by installing another battery pack, sold separately. Read our full review.
Yukon Trails Outback26: Featuring a lightweight yet tough aluminum alloy mountain bike frame with an electric motor that gives 250W of power as well as a maximum speed of 15 mph, the Yukon Trails Outback 26 mountain electric bike is recommended for riders who wish to enjoy a scenic ride experiencing great outdoor pleasure. This rugged mountain bike takes you from the streets to the trails. With an alloy suspension fork, suspension seat post as well as a Shimano 7 speed drivetrain and easy gear shifters, it makes sure you enjoy a comfortable and smooth ride on all kinds of terrain. Moreover, the front and rear V-brakes keep you in control and give you flawless stopping power.
Coming to the power of this bike, it is equipped with a 250W in-hub motor that gives you maximum speed of 15mph with a pedal assisted system. The sensor detects the rider's pedaling effort and automatically propels motor assistance as needed. A 24V 10AH lithium ion battery gives you an amazing range of 25-35 miles per charge.
The Outback 26 is a recommended choice if you want a rugged bike that can take you on the streets as well as on the trails, letting you enjoy a peaceful escape in the forest. Read our full review.
Electric Bike Buyer's Guide
For some people, having an electric motor to back up your cycling efforts is out of the question. While for others, it is like having a permanent breeze at your back that pushes you on your commutes and gives you more cycling opportunities. An electric motor that supplements your pedaling efforts makes it possible for you to carry a week of shopping bags, commute every day to work even when you are not at the top of your game, and climb too many steep hills without sweating out too much. While still environmentally friendly, electric bikes provide a great way to commute.
Here are some things you should know when buying an electric bike.
Pedelec vs. Twist 'n' go
There are two main types of e-bikes available these days: pedelec and twist 'n' go.
Pedelecs are the common types of e-bikes available these days. These bikes monitor the rider's pedaling – pedaling rate, pedaling force, and speed – and add motor assistance accordingly to help as much as possible.
On the other hand, Twist 'n' go e-bikes have switches that trigger the assistance from motors. With twist 'n' go, you can either go with pedal assisted power or full throttle without pedaling.
Quality of bike vs. quality of electrics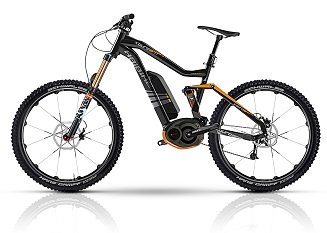 You will find three types of qualities in e-bikes. One, there are poor quality bikes with good electrics. These are good if you don't want to spend a lot and if you are good with bikes but want an electric system to upgrade a basic machine.
Two, there are good quality bikes with poor electric systems; these are useless and you should rather buy a good quality regular bike.
Three, there are all-rounders, which have both good quality bikes and good quality electric systems. The level of quality you get will depend on the money you pay. Cheaper ones will make some compromises on both the bike and the electric system while the expensive ones may be utterly wonderful.
Hub motor vs. crank motor
Hub motors are mounted in one of the wheels while crank motors are mounted at the crank set. Hub motors tend to be quiet but are not very powerful and do not handle steep hills well. On the other hand, crank motors are a bit noisy but are more powerful.
Battery
Consider the following features in a battery:
Quality
Charge cycle (manufacturers usually claim more than what the battery is capable of so bear this in mind when buying)
Types of battery: lithium based or nickel based
Battery size: small batteries take less time to charge but the range offered is not long enough. Larger batteries take longer to charge but offer more range. So weigh the pros and cons and see what you need.
Well there you have it. We hope that you have enjoyed our page outlining the top electric bikes available for 2018. Have a bike to suggest? Feel free to get in contact with us and we will take a look. Happy biking!