Schwinn has always been one of the top manufacturers of bicycles. From kids' bicycles to high performance touring bikes, Schwinn has always scored the best.
The Schwinn Discover Women's Bicycle combines style with comfort and light weight performance and provides a fun ride for short commutes around town. Whether you are on your way to work or going for leisure riding up the hills or on light bike trails, Schwinn Discover Bike will prove to be a great companion.
With efficiency close to a road bike, accuracy and stability of a mountain bike and comfort of a hybrid bike, the Schwinn Discover Women's hybrid is a must have for every casual rider who plans to ride around the neighborhood, or even a serious road racer who plans to win medals with it.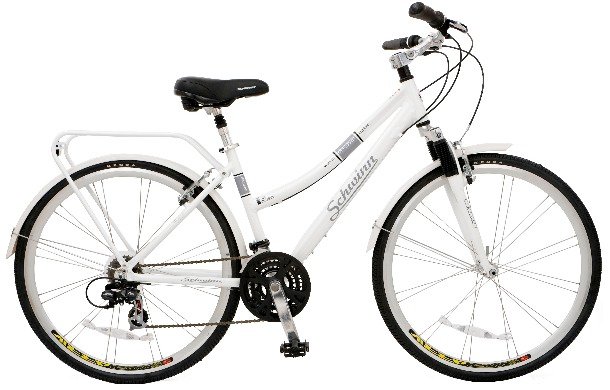 Quick Feature List
Aluminum hybrid frame
Suntour suspension fork for a stable ride
Ultra soft saddle with suspension seat post
700c, smooth tires for a smooth ride
Alloy linear pull brakes for more safety
Sweptback handlebars
Size: women's small or 17 inches
You can see the full feature list from Amazon.com. Although inexpensive, the Schwinn Discover Women's Hybrid Bicycle comes loaded with features that provide you with a fun and comfortable ride around town. The next part of our review breaks down each feature.
Lightweight aluminum hybrid frame
The bike is made of lightweight aluminum frame that provides durability, toughness and faster acceleration. The hybrid comfort frame design provides a comfortable riding position for short and long distance commutes.
700c smooth tires
With 700c smooth tires, this bike will roll faster like a road bike and provide you a hassle free and smooth riding experience. Top of the line rubber surrounds the wheel, making sure you can go as far as you want without any trouble.
Suntour suspension fork
The Suntour suspension fork provides more stability and control over obstacles on the way while the suspension seat post absorbs all other vibrations to provide you a comfortable and stable ride. Whether you are riding on a smooth paved road or a pothole-covered road, you will always enjoy a stable and smooth ride on this bike. With utmost stability and greater control, this bike is great for novices who are riding for the first time.
21 Speed SRAM Shifters
The bike features a generous gear range of 21 speeds with SRAM shifters. So, whether you are climbing up the hill, riding on rough terrain or racing around town, this bike will surely perform the best. It will hold onto smooth trails while provide enough power and stability on hills and rough terrain. Shifting and switching between gears is super easy with Shimano Easy Fire shifters. If you are into road racing, this one can surely bring you medals.
Alloy brakes
With its alloy linear pull brakes, you never have to take your safety for granted. If your previous bike failed you when it came to safety, this one is surely going to give you more control and increased safety.
Sweptback handlebars
Riders will simply love the sweptback handlebars that provide the perfect upright riding position and utmost comfort during the whole ride. With a super-soft saddle complete with a suspension seat post, this bike simply does not compromise on comfort.
Reviews from Amazon
The Discover Women's Bicycle has received positive reviews from customers on Amazon with a rating of 4.3 out of 5 stars. It is also one of the top rated hybrid bikes on Amazon. Users mostly regard the Schwinn Discover as one of the best in women's hybrid bikes. Users mostly love it for its:
high performance
great features
reasonable price
Pros of the Discover Hybrid
1. The suntour suspension fork makes it great for novices as it provides greater stability and control.
2. It has strong and tough frame that can endure any weight.
3. The 700c smooth tires allow you to roll faster and smoothly on paved roads.
4. The 21-speed drivetrain is too generous for hybrid comfort bikes especially in this price range. Shifting between gears is also very easy and smooth.
5. High quality components make the bike long lasting.
6. It is very simple and easy to assemble.
7. Users love the light champagne color.
8. Costing less than $300, this one is truly worth more than you pay for.
Cons
1. There are no attachment holes for attaching water bottle cages and rear racks. This limits its use slightly. However, that doesn't mean you cannot use racks at all as there is still an option to use mountable racks in the front, though that would limit the options a bit.
Summary
This bike is simply the best in this price range. You cannot find another bike with the same feature set at such a reasonable price.
It is recommended for women who plan to ride on even roads and for commuting around town. Never ridden a bicycle before? Get a hold of this bike as it features a tough and strong aluminum frame as well as excellent suspension fork that will provide a stable ride, suitable for beginners. You can learn to ride in just a matter of days.
So, whether you are a beginner cyclist or an experienced road racer, this bike is truly the best money can buy.